*日本語での記事はこちらです。

 増田セバスチャン「東日本大震災、被災地へ」(Japanese)
http://sebastianz.jugem.jp/?eid=564


MIGHTY HARAJUKU special column
"Visiting the victimized areas"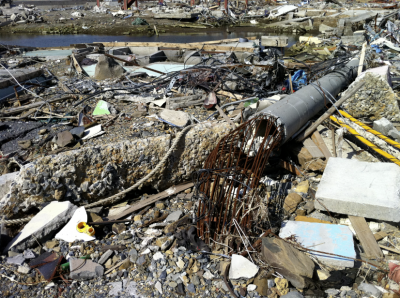 2)
The reality I saw at first-hand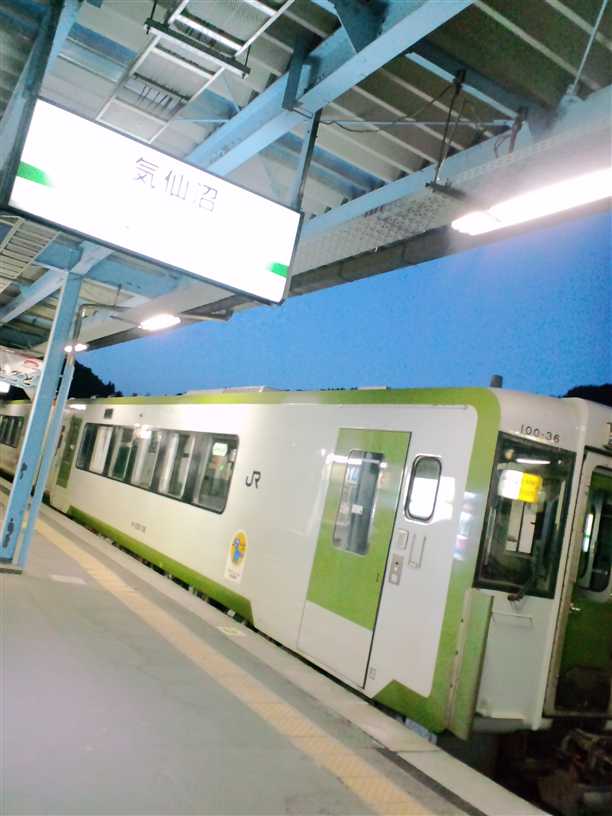 After taking the local train from Sendai, we finally arrived at Kisennuma-station, which had finally recovered from the disasters.
From there, we took a taxi (which had also just recovered) to Shizugawa to get to Minamisanriku-cho.
The purpose was to see the site, and to take part in volunteer activities, so I could be some help to the local people. The taxi driver was born and raised here, and was an older gentleman who was familiar with Minamisanriku-cho.
He told me; "I'll explain what is going on in this town until we get to the site. As closer as we get there, you're not going to be able to believe in the scenery you see. I'll drive a little slowly so you can take pictures."
The driver usually drove around a lot of journalists and photographers, and knew how important it was to "convey" messages. I could only do a little, but since i do have some influence on people, I was one of the people in charge of "conveying" a message.
The things that the local people told me encouraged me a great deal.
From here, I would like to show the photographs I took with things that the taxi driver told me as a supplement.
However, I would like people to understand that photographs are only show a part of the reality, and this is what is happening 2 months after the initial disaster. Photos cannot show everything.
We drove through a road alongside the ocean to Shizugawa.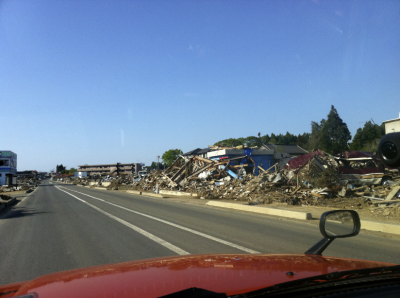 The road is very close to the ocean. The roads are nice and clean, but the houses on the sides of the road were still rubble.
There are some buildings that haven't been torn down, but you could easily see that there is a great amount of damage. Even areas not close to the ocean, people are getting affected by tsunamis that happen from the water from rivers.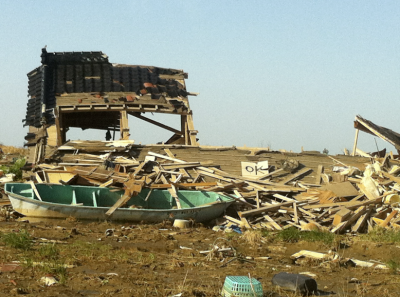 I sometimes see "OK" written in front of the buildings. (I wonder if this means that this building has already been researched)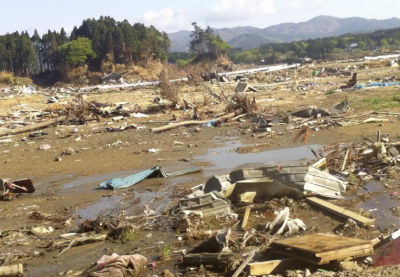 Here, the whole village has disappeared.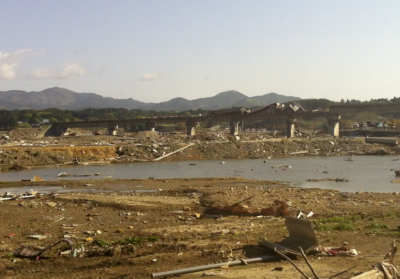 You can see that here, a bridge in the distance, has fallen down. When you look carefully, you can see that there is a house on top of the bridge as well.
I arrived to Minamisanriku-cho, and around Shizugawa station. I got off the taxi, and started walking.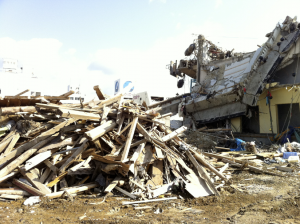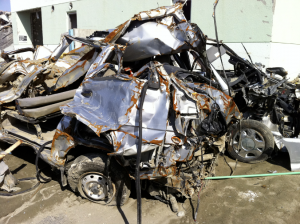 Quite frankly, I had no words.
Everything was worse than what I had expected.
In front of Shizugawa station.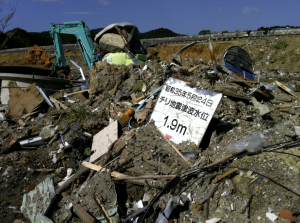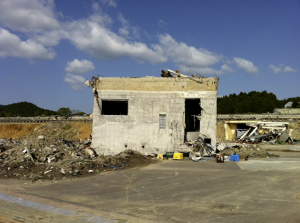 This building has turned upside-down.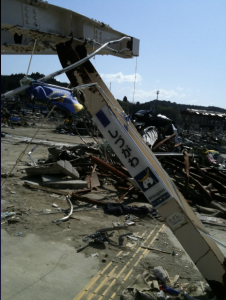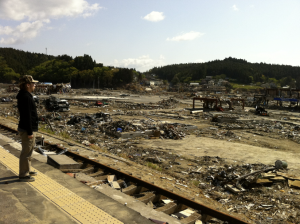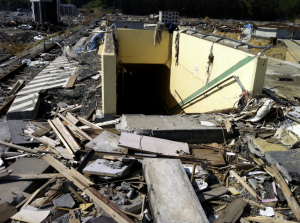 The platform of Shizugawa station.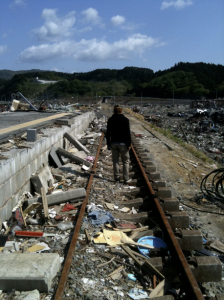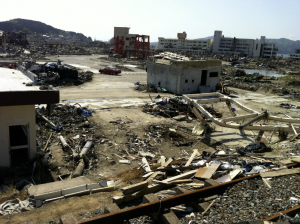 This is the scenery seen from the platform.
I can see the turned-over building from here.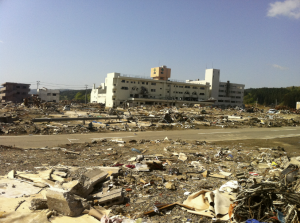 A hospital.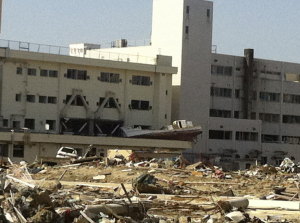 You can see that there is a ship on top of the building.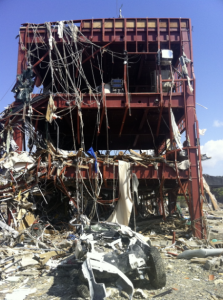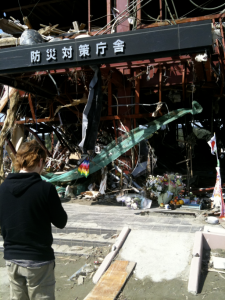 In front of the government office in charge of disaster countermeasures, I saw paper cranes, national flags, flowers and incense.
I joined my hands in prayer using prayer beads that my mother had given me.
I don't know how many times I sighed.
Words are empty.
After this, we headed to the volunteer center.
As I got off of the taxi, the driver told me
"Thank you for coming to help out from so far away. I will definitely pay back for this some how…" and bowed down.
All I could do was to say in a brighter tone,
"I'll come back as a tourist, to enjoy some delicious fish!"