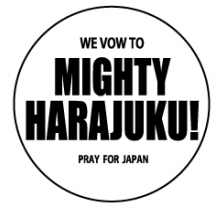 First and for most, I pray for the the victims that passed away from this disaster, and my heart aches for those going through the ongoing hardships.
Though in little steps, Tokyo is definitely going back in to the normal every-day life.
However, there a lot of negativity in regards to information going around,
and this does make us feel dogged down at times.
After the disaster, I think all of us collectively thought;
"What can I possibly do?"
I thought about the things that I can personally do to help.
As someone that has been in Harajuku for quite a while, at this point, I thought that I should do something from Harajuku, and I came to the conclusion that I should report what is going on in Harajuku to the rest of the world.
Right now, Harajuku is extremely quiet. Only around 70% of the shops are open.
Compared to before, there are barely any people walking around.
In such situation, my store, 6%DOKIDOKI, has been open from Sunday, 2 days after the earthquake.
I had to go through a lot of thoughts, but a customer came into our store very early on sunday; she had traveled from San Francisco, and had been excited about visiting us. I thought to myself, even though we have to conserve electricity, we really do need to keep the store open!
I will repeat myself, but although we are taking little steps, we are definitely going back to our normal lives.
While looking from the rest of the world, Harajuku is a place that is admired.
It is a rare area that Japan can be proud of for constantly transmitting interesting information from a very edgy angle.
If Harajuku loses its power, I have a strong feeling that Tokyo, Japan will lose a lot of its appeal. I want to let people know that we don't want Harajuku, Tokyo or Japan to lose anything from the earthquake; and I think that by letting people know our thoughts, it would definitely encourage them as well.
I am naming this project 【MIGHTY HARAJUKU PROJECT】,
and show the world what is going on in Harajuku through photographs and simple words.
I want to show the reality, both good and bad, of Harajuku to the rest of the world.
Everything will be posted in both the Japanese and English facebook and twitter.
We did not have much time to prepare,
but we are also going to work with TokyoFashion.com for this project.
(I just happened to bump into T from TokyoFashion.com by conincidence in
Harajuku, and we both decided to put enthusiasm into Harajuku. What a great
coincident!)
To advocate,
please transmit and tweet the appearance of Harajuku freely
on twitter with hashtag "#m_harajuku".
Timeline of "#m_harajuku"
http://twitter.com/#!/search?q=%23m_harajuku
【Twitter】
Source:
@sebastea(Masuda Sebastian)
http://twitter.com/sebastea
Contact information:
@tokyofashion(Tokyo Fashion.com)
http://twitter.com/tokyofashion
@6dokidoki(6%DOKIDOKI)
http://twitter.com/6dokidoki
Though the main language is English on Facebook,
please press "share" button,
put information on your timeline.
【FaceBook】
Source:
Masuda Sebastian
http://www.facebook.com/sebastian.masuda
Contact information:
TokyoFashion.com
http://www.facebook.com/TokyoFashion
6%DOKIDOKI
http://www.facebook.com/pages/6DOKIDOKI/154146631284965
Thank you!
We vow to MIGHTY HARAJUKU!!!!!
March 14th, 2011 Masuda Sebastian